Support for Ukraine
As part of our goal to provide medicines information to all parents, carers and families, the Medicines for Children team are pleased to announce a new series of medicines information leaflets translated into Ukrainian.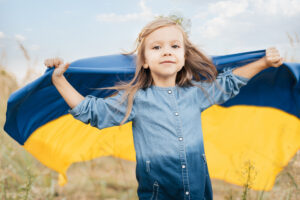 This is the first of many translations that we plan to develop, with the aim of offering information about the most used medicines in a range of languages. This work has come about following multiple requests from the users of the Medicines for Children website. Although more language translations are currently being undertaken, we felt it was important at this current time to push through the Ukrainian language leaflets in support of the people of Ukraine.
Following consultation with the Medicines for Children board and colleagues from the RCPCH and NPPG, we selected eight of the most commonly used medicines which Ukrainian families would be most likely to use: painkillers, antibiotics, and medicines used for asthma. The leaflets can be downloaded below.
We also wanted to share a recently published guide which aims to help people in the UK prepare for hosting Ukrainian citizens who have had to leave their home due to the war. This guide has been co-produced by the NSPCC, Barnardo's, Save the Children and by the RCPCH (Royal College of Paediatrics and Child Health; one of our project partners). The guide 'Advice for Host Families' has been written to support people in the UK who are preparing to host Ukrainian citizens. It gives support and practical advice for what UK families can best do to ensure their guests feel welcome and how they can help them to settle into life in the UK.