Medicines for Children's 2021 review
2021 was an exceptionally busy year for the Medicines for Children team and we wanted to update you on what we have been up to.
As 2022 gets underway, it is a good time to reflect on Medicines for Children's activities across 2021 and some of the landmarks we achieved over the year.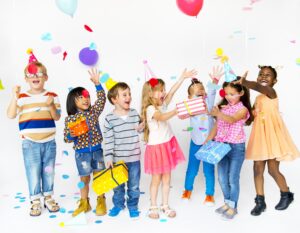 This includes celebrating our 15-year anniversary, launching our new-look website, changes to the core team involved in the programme, restarting work on our medicines management app and negotiating a new partnership contract between the three organisations behind the work! Read on for more details of these activities.
2006 to 2021: 15-years of Medicines for Children
When Medicines for Children was established in 2006, the aim was to develop accessible and accurate information about medicines given to children, written specifically for parents and carers. The initial Steering Committee spent many hours discussing and developing the information that is now freely available on our website: What do parents/carers need and want to know about medicines? How do we best provide this information? Fifteen years on, our website provides information on more than 200 medicines and numerous supporting videos and is visited by millions of people worldwide. We think we have met our original brief!
To celebrate our achievements, Medicines for Children held a session at the annual RCPCH conference in June 2021. We showed videos from WellChild families about their children's journeys with medicines and why having access to medicines information is so important for them. We hosted a fun, interactive quiz with questions such as which is our most downloaded medicine and which countries in the world access our information! We also talked about the continued importance of Medicines for Children, and where we hope to see ourselves in 15 years time.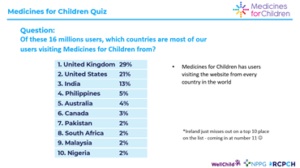 The next 15-years?
An important part of our 15 year celebrations was reflecting on our past work and looking to the future: "Where do we see ourselves in 15 years from now?"
The first thing that we want to keep doing is working with the amazing families at WellChild to ensure that we are meeting their needs. We must continue to expand our resources and our scope for helping them. We also want to offer better access to our resources and medicines information, not just to the families we are connected with through WellChild, but for all families – including those who may only have to give medicine to their child once or twice a year. We want to be able to reach more people, and to be able to offer them more resources to meet their needs.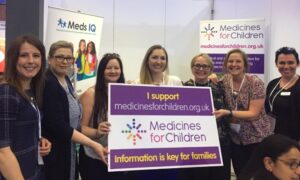 We still get regular contact via the website asking for more medicines to be added to our library, and for information on more specialist conditions to be developed. We are hoping to continue expanding our medicines library so that we can offer information leaflets for even the most infrequently prescribed medicines.
The launch of our new website
This leads us on to how we are building and developing Medicines for Children for a whole new generation of parents, carers and families.
A key goal is to keep adapting to new technology and the changes in society to ensure that we are continuing to meet users' needs and responding to requests for further information. A focus for the near team is on improving accessability for users, by making sure our website is fit for purpose and meets users needs and also by re-starting work on our new medicines management app.
A major step forward in 2021 was the creation of a new website, with a fresh look and – most importantly for the team working on the medicines leaflets – a behind-the-scenes content management system that will help us keep the content up to date. The website was launched in October of 2021 and we have received some great feedback so far, but we still have more work to do and new features and resources to add.
Restarting work on our medicines management app
Another important activity in 2021 was restarting work on the development of our "medicines management" app. The app will provide parents and carers with a way to record when they give their child a medicine – which can be particularly important when care is shared by several people. The recorded information can also be shown to healthcare professionals, to help discussions about adherence to medicines. The WellChild parents' group have provided a lot of important insight into the development of the app.
The first prototype is now ready for user testing – an exciting landmark! More information can be found here, including how you can get involved.
Screenshots of the new medicines management app
The people behind the work
People are key to the success of Medicines for Children! Sadly, at the end of 2021 we said goodbye to Dr Helen Sammons. Helen was a senior RCPCH representative on the programme board and has worked with us for the last 12 years! During this time she provided endless insight, enthusiasm and support for the work and shared her years of expertise working as a consultant paediatrician. She will be very greatly missed, and we would like to thank her for all her contributions and hard work on the programme.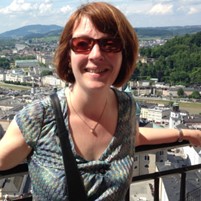 We are currently advertising for a new RCPCH senior representative and a new RCPCH trainee to join the programme board. More information can be found here: https://www.rcpch.ac.uk/membership/volunteering-opportunities/research-QI
In 2021 we launched a new summer internship programme for medical students. Our first intern, the brilliant Evalyn Usher, helped transfer content onto the new website (an onerous task!), produced the welcome video now featured on the home page of the website, and recorded two podcasts for our users about living with epilepsy – which will be released in Spring 2022.
You can hear more about Eva's experience working with us in her own words via her reflections on the post, available to watch here:
Eva also wrote an excellent blog on the important of engaging medical student in Quality Improvement work. This piece is available on the RCPCH QI website here: https://qicentral.rcpch.ac.uk/news/qi-blog-tell-me-about-a-time/
Following the success of working with Eva over summer 2021, we will be recruiting another intern in June 2022. We were also lucky to be joined at the end of 2021 by Ishini Mendis, as part of the UK's 'kick start' scheme, in a new role of digital assistant. Ishini has already made a big impression on the programme board, developing QR code posters for key medicines to improve access to our leaflets and introducing us to new social media platforms such as TikTok, which we are exploring as another way for us to reach a wider range of parents.

Renogiating contracts between project partners
Another big step, but behind the scenes for 2021 was renegotiating the contracts between the three partner organisations who work together on the Medicines for Children programme. Since its inception in 2006, the programme of work has been run in joint partnership by the RCPCH (Royal College of Paediatrics and Child Health), the NPPG (Neonatal and Paediatric Pharmacist Group) and the children's charity WellChild. With the new developments in 2021 such as the new website and the app, the partnership was formalised and cemented with a new contract setting out roles and responsibilities and ensuring the sustainability of the programme.
What is planned for 2022?
Looking ahead into 2022 we are busy continuing to improve the resources available on the new website, such as a work stream to provide materials to help families looking after children and young people with learning difficulties to get the right support with their medicines, as well as offering more interactive content. This includes an upcoming podcast series on living with epilepsy and the development of QR code posters for doctor's clinics and pharmacies to allow easy access to medicines information for families.
As always we would love to hear from you with your ideas or feedback on our work at medicines.leaflets@rcpch.ac.uk