Developing a medicines management app
Would you like to be involved with developing our new medicines management app? We are looking for child health professionals, and parents/carers who have an interest in working with us on our mobile app.
We are pleased to announce that 'Version 1' of our new digital tool – designed to help parents and carers to manage their children's medicines – is ready for the next phase of development. Following significant user involvement in the design process, as well as many hours of testing and feedback, we now have an app prototype and are ready for 'phase 2' of the work. Read more if you would like to get involved with inputting ideas and sharing your experiences to help to improve and build upon the current prototype app. We would love to hear from any child health professionals, and any parents/carers who have an interest in working with us on phase 2 of the app.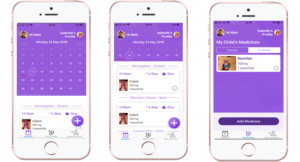 Since the Medicines for Children's website launched over fifteen ago, we have received many requests for additional support to help parents/carers manage their children's medicines. More recently our users, which now number over 3 million people, have been asking for a mobile app. Users have told us that they would like this app to build on the information provided by the main Medicines for Children website, but to offer a more personalised service with additional features that go beyond what the website can provide.
Following a pause due to Covid-19, 'Phase 2' of development work on the app restarted in January 2022.
Phase 2 is focussing on building upon the current prototype app, testing the existing features and also testing our assumptions as to what the app needs to do.
We have began this phase of the work (March 2022 – June 2022) by speaking to people who have an interest in using the app and who would like to share their ideas/experiences/concerns for the app.
The work on the app started back up again in earnest in January 2022, following the long delay caused by Covid-19.
The team developing the app felt that one of the most important first actions to take, was to update the healthcare professionals who has previously worked with us on the app in 2018, when it was funded by Comic Relief. Since then, other healthcare professionals have got in touch to ask about the app, so the team felt it was best to host a series of webinars where we could update interested parties on aspects of the app such as, the background to the app, what we have achieved so far, and what the plans are for the next phase.
Two online sessions were held for health professionals to learn more about the app on 11th and 12th of January 2022. These sessions were specifically for child health professionals, with parent and carer information/feedback events planned for later in the year.
The 'bitesize' sessions were designed to give a quick overview of the app development so far and to share our plans for the next phase.
Recordings of these sessions are available to view below.
The recordings from the webinar sessions, hosted by Lucy from Reason Digital, have been broken down into smaller sections so you can quickly and easily learn more about the area you are most interested in. Please watch the videos to see what we covered in the sessions and what the plans are for the next phase of the app! (Links to YouTube)
Ideas for additional features to explore
If you would like to be involved and input into the app's development, we would still love to hear from you.
We have now held several webinars for healthcare professionals, attended by a wide range of people working in the different medical fields from across the UK.
We are now moving into the development phase where we would like to hear from and work with families and parents/carers.
We are keen to speak to families to find out more about their experiences managing medicine routines, so that we can design an app that will work best for them.
We would like to learn more about how families manage their child's medicines in the home. We would also like to hear more about how shared care is managed with other people within the child's network. For example how care is shared between parents who do not live together, or with grandparents and siblings, with school nurses, or paid carers.
Webinars for parents, carers and other interested family members
To begin the work with families, we held two 30 minute webinars for parents and carers, on Tuesday 26th and Thursday 28th April 2022.
At these webinars we provided an overview of how the app has been developed so far and what features it currently has. We also explored ideas for the next phase of development to see whether they will benefit parents, carers and families.
At these webinars, parents were asked to share how they currently manage their child's medicines and explore how the app could support with this in the future.
In addition to the webinar, the team building the app has spoken to families for a follow-up one-to-one chat. These one-to-ones  focused on the parent, their child and the family set up, to look more in depth into how they manage shared care with other family members, carers and/or medical professionals.
Please email medicines.leaflets@rcpch.ac.uk for more information and to find out more about how you can get involved.